FeaturePlan
An Integrated Product Management Solution for Your Entire Portfolio
FeaturePlan is a central knowledge base and decision making tool that stores all your product information, from new customer ideas and customer enhancement requests, to market and technical requirements. It allows you to identify market problems and define the features and roadmaps to best respond to your customers needs through the products you develop.
An agile, enterprise-class solution, FeaturePlan enables collaboration across all of your company's product groups, including marketing and sales, engineering, professional services, support, and product management.
In addition to supporting day-to-day product management activities, FeaturePlan product management software also provides robust analytics and reporting capabilities that dig deeper into your processes to help you leverage best practices in product management within your company.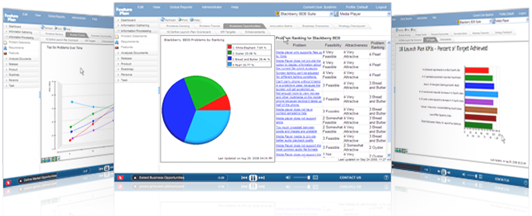 Features & Benefits
An end-to-end business solution for software product lifecycle management.
Centralized knowledge base for all product information, including, customer, market and competitive data.
Embedded best practices from the Pragmatic Marketing Framework, Six Sigma, Stage Gate, and many others.
Robust analytics and reporting capabilities.
Easily create consistent, dynamic Market and Product Requirements Documents (MRD & PRD), as well as dozens of other critical Product Management business documents.
Available as an onsite or SaaS deployment.
Supports the day-to-day decision making activities of your product management teams.
Capable of managing a single product or a complex product portfolio.
Configurable to easily adapt to any product structure and organizational structure.