FeaturePlan - Document Center
Part of FeaturePlan 2012, Document Center completely revolutionizes the way product managers can create their market requirements documents, product requirements documents and business cases. It provides users with a document view to directly write, manage and publish high-quality product management documents from templates including key areas such as market sizing, competitive analysis, features and requirements.
These pre-built document templates for MRDs, PRDs and business cases help product managers write documents that can then be edited and shared with stakeholders across the enterprise. Packaged templates from leading product management consultants, such as the 280 Group and Process Impact are also available, and custom templates can be developed in-house through our professional services team.
The module provides the simplicity of writing a document with the power of a database engine. Using a single document view, the module follows a natural, intuitive way of creating a document that is capable of integrating deep business analytic dashboards taken directly from the database.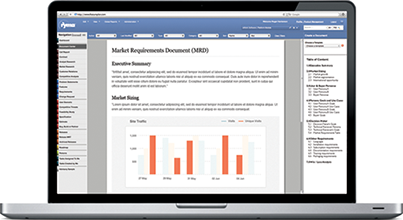 With Document Center, you can:
Content can then be easily versioned and shared across multiple documents or even projects.
Supports rich text editing and encompasses the document management features (section numbering, page breaks, etc.) that you would expect from an editing tool.
Reports can be saved as Microsoft Word and PDF documents so users can collaborate with engineering, marketing and others more efficiently.
Custom document templates can be built with the help of Ryma's Professional Services Group.
Creating a business case, MRD or PRD while managing your product-related content needs has never been easier or more productive.
Templates for business cases, MRDs and PRDs are available from the following product management consultants: