Val Workman
The opinions expressed by the bloggers below and those providing comments are theirs alone, and do not necessarily reflect the opinions of Ryma Technology Solutions. As they say, you can't innovate without breaking a few eggs...
Involving the User in Market Sensing
Traditional Market Sensing keeps the customer at an arm's length in that they are asked what type of offering they would like, but then have no further involvement in new product development. It's difficult for customers to articulate the type of features they would like, especially if they're unaware of the technology possibilities – in short, interactions with market researchers.
It's largely recognized that the work of Professor Eric von Hippel at MIT showed the importance of user communities in driving innovation. In 1986, he introduced a process that is nowadays called the Lead User method. In his arguments for this method, he criticized market research methods, stressing the value of involving users who have a deep expertise in the use of products.
The importance of building close links with customers and users has never been greater and leading companies will be creative in developing new ways to harness the energy and enthusiasm of these customers. There are many ways to involve users in market research and new product development. The strategy diagram below illustrates some of the possibilities. Most involve some form of the Lead User method or a User Community.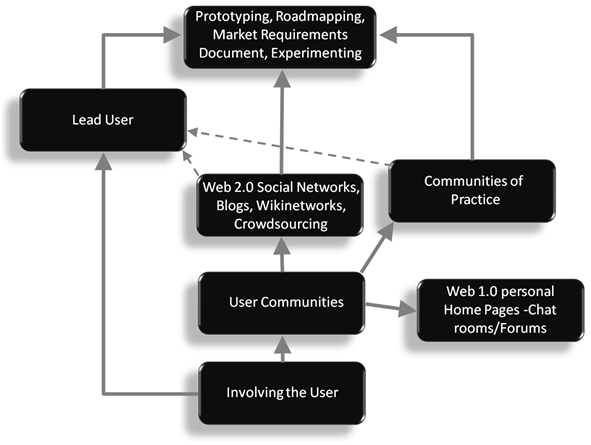 LEAD USER - Once lead users have been selected, the next step is to expose them to product concepts, either in an actual workshop or web meeting. These users are then brought into the organization's innovation process at various touch points and their ideas may end up warranting prototyping activities, or maybe set into a product roadmap, perhaps a Marketing Requirements document, or drive further experimentation.
It's important to stress that lead users are not normal users, but customers that have very demanding needs and are experts at using a particular offering. I don't know where this quote came from but I like it: "A true lead user should be a window into the future and not an anchor in the past". Some lead users have a strong interest in solving their specific problems and benefit significantly when they obtain a solution. I'll have to talk more about the lead user method some other time.
USER COMMUNITIES - The first type of community is what I'll refer to as the Web 1.0 group. This is the group I was talking about earlier, the arm's length group. These folks can be brought into the innovation process with additional technology, but by themselves they just can't do more than supply market evidence for the product management team to process. As members of this group become familiar with your offerings, they provide feedback in the form of responses to new offerings and have to be monitored for new market evidence. This has many drawbacks though:
The information is after the fact. Imagine the market evidence Netflix gathered after they announced a 60% price increase and intentions to spinoff their DVD-rental business.
Offerings are made up of many decision points. It's much more expensive to turn around a decision at this point, rather than before it is being made.
Frequent feedback from the customer can keep you market centered within business constraints. Waiting until the end of the innovation process and then listening to the response of the market is a risky business at best.
Ok, one more. Engaging your users in the decision process helps build product buy-in prior to the release. If you wait till the release - you may not have a user.
The Web 2.0 group is great. This community can provide you with lead users, who can participate in selected decisions within the activities of each of the Seven Pillars. The community can also supply normal users who can provide feedback and validation on each of the Seven Pillar assets of Market Evidence, Problem Statements, Opportunities, Features, Roadmaps, Requirements, and Launches. This helps put the market ahead of the release, which is a great place to be. Didn't I say they were great!
Now let's take a look at the best. This is a community of practice. I definitely will talk more on this, but for now consider this table.

Granted, there are some Web 2.0 that is becoming a CoP, but typically this is the division. My point here is that there is a transition in the amount of user involvement that can take place as an organization formalizes their processes supported by technology. The ultimate goal is a Community of Practice – companies who are able to establish them are gaining huge benefits in user involvement, those that aren't able to pull it off are dying, and we won't need to talk about them in the future. Consider these to be advantages your competitors either have or will have shortly.
Contact with users is cheaper and faster than conventional market research.
Shorter development times.
Lower risk.
Increased creativity, with more disruptive innovation.
Lower customer churn.
Improved internal processes as communities begin to participate, they become more formalized with standardized language.
Not advantages I'd want my competitors have over me.